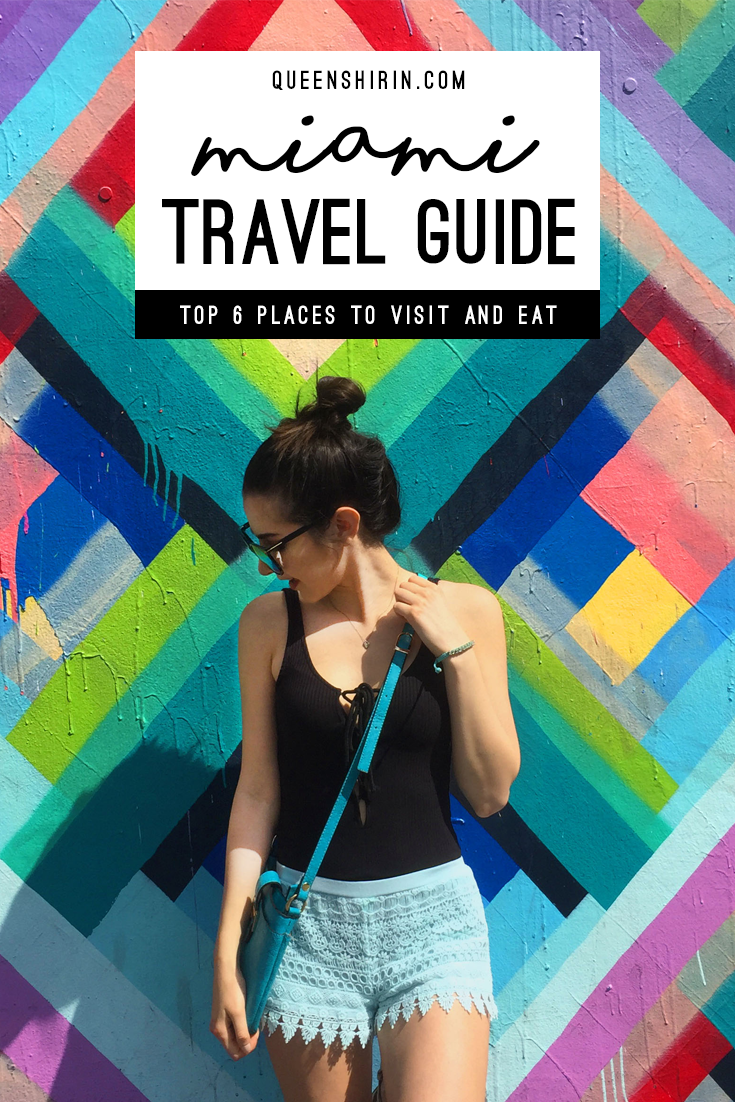 Miami Travel Guide: Top 6 Places to Visit and Eat in Miami
Traveling to Miami? This guide lists the top six places to visit and best restaurants to eat at in this vibrant, culturally-rich city in Florida. From the most Instagram-worthy foodie spots to the best blogger OOTD locations, I've got you covered.
If you follow me on Instagram or are subscribed to my YouTube channel, then you know that I recently visited Miami to attend Ultra Music Festival for the first time. While I was in town, my inner adventurer was dying to explore the city. In fact, I had been researching places to visit in Miami on Pinterest and going to Wynwood Walls was a MUST on my list since November. (FYI: Ultra was in March. I was researching the best places to visit in Miami for four months. Yes, I am a bit of an over-achiever. Let's move on.)
I stayed in Brickell, which was perfect because not only was I in the heart of the city with a gorgeous panoramic view of Miami, but I was also conveniently walking distance from the venue, Bayfront Park, and surrounding tourist spots, like Little Havana and Brickell City Centre. To get to South Beach and other places that were a bit further away, I took Uber and the prices were surprisingly extremely reasonable; plus, I didn't experience any surge pricing! For reference, a ride from Brickell to South Beach cost me about $10 — so worth it!
Feel free to use my Uber code, uberqueenshirin, for your first ride free!
Ready to learn where to go? Here's an overview of our itinerary for this travel guide:
Miami's Best Places to Visit
Brickell City Centre
Calle Ocho in Little Havana
Miami Design District
South Beach
Lincoln Road
Wynwood Walls
Miami's Best Places to Eat
Old's Havana Cuban Bar & Cocina on Calle Ocho in Little Havana
Versailles in Little Havana
OTL in Miami Design District
Havana 1957 on Lincoln Road in South Beach
Tacology in Brickell City Centre
Miam Cafe in Wynwood's Art District
Let's break it down.
Brickell City Centre
Luxury shopping and dining are taken to another level in this open-air shopping center. Brickell City Centre is the largest and newest mixed-use urban development in Miami. It's so new that some stores are still under construction, but that doesn't stop it from being the latest tourist spot. This is a great place to walk around or enjoy a bite to eat. I highly recommend Tacology, which serves up a modern take on Mexican food.
Aside from dishing out some of their tacos in shot glasses, they have a unique selection of items on their menu. Have you ever tried a cactus or octopus taco? Neither had I until I dined at Tacology and WOW were they tasty. The cactus was cut into tiny pieces and so tender that I didn't even realize I was eating a cactus. And the octopus? Literally tasted like chicken. So yummy! I was thrilled when I saw an "El Cactus" drink on the menu, so I HAD to order that, as well. What did it taste like? Orange juice. I loved it! (I know what you're thinking: "This girl is obsessed with cacti." Yes. Yes, indeed, I am. You might as well call me Shirin the Succulent.)
The prices were a bit on the higher side for the portion size of two tacos per plate, but I promise you the experience and ambiance are totally worth it. Our waiter and the staff were also super friendly, checked on us often to refill water, and cleared out plates as we ordered more dishes. Overall, I had a wonderful experience and would definitely go back.
Calle Ocho in Little Havana
Little Havana is Miami's most famous Cuban neighborhood and is known for Calle Ocho, or SW 8th Street, which is packed with restaurants where you can enjoy Latino food and music. You basically experience Cuba without leaving the country. The main happening spots are located from SW 12th to 18th Avenues. Colorful rooster statues and murals that reflect Miami's Cuban influence can be found on several streets in Little Havana.
Old's Havana Cuban Bar & Cocina is a little gem that pulled us in with music from their 2-man Cuban band, authentic vibe, and appetizing items on the menu. The walls are decorated with photos from the old ages and the waitresses wear traditional dresses. To start, I ordered a Cuban coffee, which was arguably the best coffee I've ever had! It tasted very sweet, as it was a molasses-filled espresso. If you're a coffee lover, you have to try this. Plus, it's only .99 cents!
For my main dish, I ordered Pan con Bistec, a marinated top round steak paired with onions, tomatoes, and potato sticks on pressed Cuban bread. As someone who can typically split a meal, I was surprised I nearly finished the whole sandwich! You will leave this place with a full, happy belly; it'll be so full that I actually recommend taking another walk down Calle Ocho to help you digest.
Versailles Restaurant, "The World's Most Famous Cuban Restaurant", is a 9 minute drive down the street. This place was packed when I went, but the wait time to get in was relatively short. I ordered a Cuban coffee, of course, and the Chicken Versailles, which was a grilled boneless half chicken marinated with Cuban mojo and served with Moros rice and sweet plantains. The portions are so filling that they could easily be split! The food was great and the interior was charming with its mirrored walls. Don't leave Miami without going here.
Miami Design District
The Rodeo Drive of Miami. If you're a fellow Los Angeleno or have ever visited Beverly Hills, you'll understand my reference. Basically, this place is filled with luxury stores and trendy restaurants, like the insta-worthy OTL. Miami Design District is one of those places that's pretty to look at and a nice spot to take pictures if you're ballin' on a budget. Make sure to walk to Palm Court to check out the Fly's Eye Dome structure designed by Buckminster Fuller, an American architect amongst other cool things you can Google here.
P.S. The fluorescent orange walkway next to the Fendi store is a wonderful spot for a photo op or simply pretending you're walking a runway. You're welcome.
Let's talk food. OTL is a cute cafe with a modern vibe that just opened in January 2017. I looked up this spot before heading to Miami Design District and knew I had to try it for myself after reading so many great Yelp reviews. We sat outside because the weather was nice and I mean, let's be real, I obviously wanted an Instagram pic with that beautiful blue table background. The food truly is as good as it looks. I ordered a cappuccino and the OTL Super Seed Butter Toast, which was topped with fresh blueberries on toasted brioche. It was the ideal balance of sweet and savory!
South Beach
You can't go to Miami without visiting South Beach. I'm sure you've seen it a million times. The beach is featured on several Miami postcards and Ocean Drive has been used as a backdrop in many television shows and films. This trendy spot is known for its nightlife, white sand, and colorful buildings. South Beach is the perfect place to lay out during the day and party at night.
One of the most notable attractions in this area is The Villa Casa Casuarina, aka the Versace Mansion, which is located on Ocean Drive. Although I didn't get a chance to explore the mansion on this trip, it's definitely on my list of places to go next time I'm in Miami. If South Beach isn't really your scene, at least drive through it for the experience.
Lincoln Road
While Lincoln Road is in South Beach, it's one of those spots that's worth being noted separately. It's comparable to Santa Monica's 3rd Street Promenade — here we go with another LA reference. In other words, it's an outdoor mall that stretches from 16th Street to 17th Street and is the ideal spot for shopping, dining, and people watching.
I ate dinner at Havana 1957, the most popular restaurant on Lincoln Road, and ordered the Camarones al Ajillo, a seafood dish consisting of shrimp sautéed in garlic, olive oil, and white wine. It was served with white rice and sweet plantains, as well. Delicious and filling! Seems to be a common theme with Cuban food, eh? I'm not mad about it. I forgot to take a picture of the food, but I did take a video! Check out my vlog below if you want to see it.
Wynwood Walls
If I could recommend only one spot to visit in Miami, it would be Wynwood Walls in the Wynwood Art District. What was originally a warehouse district has morphed into an artsy outdoor destination featuring colorful murals and street art, which serve as the perfect Instagram background. I'm sure you've scrolled through your Insta feed and liked pictures featuring this location without even realizing it.
Whether you're a blogger looking for a nice OOTD background, a tourist, or an art lover interested in checking out the work of artists from around the world, Wynwood Walls is a place you can't afford to miss. I recommend going there early in the morning when they first open at 10:30 AM to beat the rush and afternoon heat. If you really want to have a complete experience, get there even earlier and enjoy breakfast at Miam Cafe, which is a two minute walk down the street from Wynwood Walls. I had the best french toast of my life there. Paired with apples, each bite was a fluffy delight.
---
Interested in watching my Miami adventures?
I vlogged my Miami trip and Ultra Music Festival experience. Check it out below!
Have you visited Miami? Where are you favorite places to visit or eat? Leave a comment below with your recommendations!