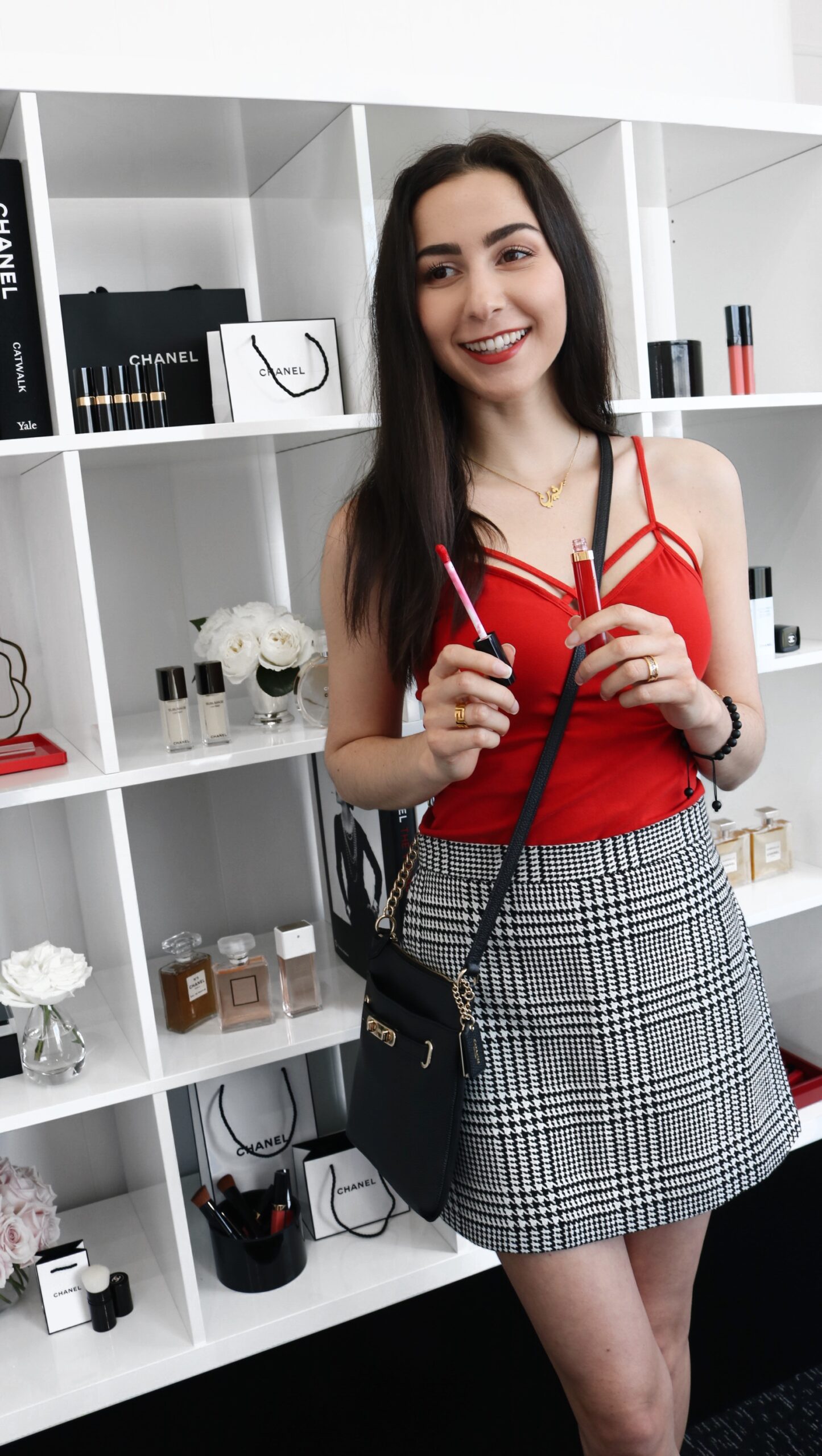 2018 Trend: How to Style Plaid Skirts
The plaid fashion trend has taken my Instagram feed and clothing brands by storm. What started as the biggest Fall 2017 trend has continued into Spring 2018, making plaid a staple in my wardrobe as the pattern proves to be timeless. We're not talking about any ol' plaid here. While I've been a fan of colorful plaid flannels for years, today I'm talking about gray/black and white plaid skirts. More specifically, I'm going to show you how to style a plaid skirt in a chic way.
The first week of March, I attended the Chanel Beauty House #welovecoco pop-up event at The House on Sunset in Los Angeles to celebrate Chanel's launch of new lipsticks. The house had seven rooms with different themes, which you can get a look at in my vlog below.
After seeing images of the house and decor the day prior to the event, I knew I wanted to wear an outfit that resembled Chanel's classic, sophisticated look and complimented the venue's black and white tiled floors. I went to my closet and instantly pulled out my plaid skirt from Forever 21 that I bought in September 2017 for my trip to Iran, but never got a chance to wear. Mind you, this was a windy 60 degree day in LA, which is freezing by my Los Angeleno standards, but style over wamth clearly wins in my book.
How to Style Plaid Skirts
I absolutely adore plaid on plaid a la Clueless, but do you really think I was not going to revamp the look for 2018? As if! To avoid clashing patterns and looking dated, I like to pair my plaid skirt with a solid colored top. Staying true to the Chanel Beauty House vibe, I opted for a strappy red tank top from Express and tucked it into my skirt. Solid colored bodysuits would also be a great option since they hug your body and prevent those wrinkles that are apparent in other types of tops.
For the shoes, you simply can't go wrong with a classic pair of black mules. Mine is the Anabi Block Heel Mule from Vince Camuto, one of my favorite shoe designers and brands, as all my shoes from his company have been high quality and long lasting. I've had my first pair of Vince Camuto heels since my high school homecoming in 2011 and they still look brand new, unless you look at the bottom, of course.
My Coach black messenger crossbody has been my go-to purse lately and it complemented this look so perfectly as it tied in with the black in my skirt and shoes. Don't you love having a bag that goes well with every look? It makes my life so easy because I simply throw it on and I'm out the door without worrying if my cash or cards are in another purse. If you're the type of person to switch bags to match each outfit, you know exactly what I'm talking about.
To accessorize, I wore my staple Greek Key pattern rings, black love bracelet, and Shirin necklace in Farsi that I got in Iran.
How would you make a plaid skirt look cute? Let me know in the comments!
Shop my look