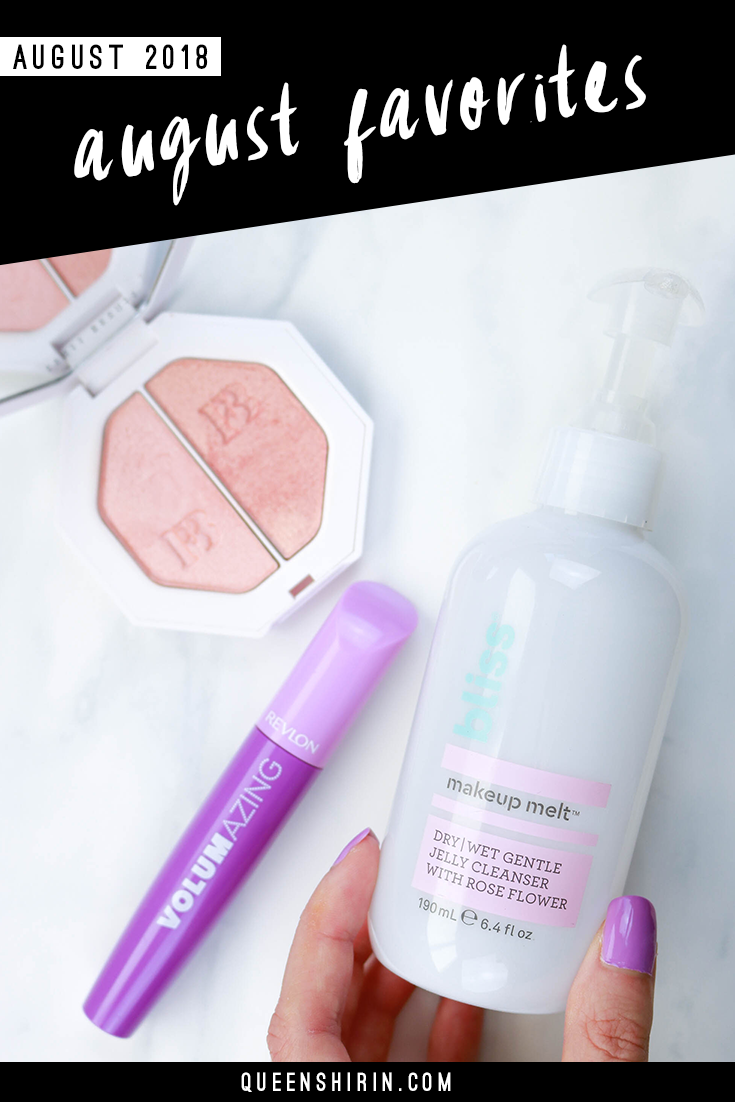 Is it just me or is summer flying by way too quickly? Like, it was just June yesterday and now it's almost fall. August was a fun month because I went to Big Bear Lake, a city in the mountains almost two hours outside of LA, two weekends in a row. The first weekend was for a getaway with friends at a cabin and the second to shoot for a wedding as a videographer.
While I was in Big Bear, I tried a new kombucha brand (well, new to me) and it was incredible! Afterwards, I added a new sensitive skin approved product to my skincare routine that I'm excited to share with you all, in addition to a new flake-free mascara. Oh, I also found the best leggings that are super comfy and not see-through for under $10. Score! Here were my favorites for the month of August.
Beauty
Revlon Volumazing Mascara
Revlon's Volumazing Mascara really is volumazing. No flaking. No transfering. No clumping. Just beautiful, soft, lifted lashes. If you've been watching my YouTube videos for a while, then you know that I typically don't wear mascara on my bottom lashes because of smudging and transferring. This mascara doesn't do that at all, so I've been rocking bottom lashes all day.
The ultra-creamy formula is infused with caranuba and olive waxes that condition my lashes to make them super soft while also feeling lightweight. I've been wearing this mascara non-stop since I got it and love it so much. This mascara is also perfect for sensitive eyes because it's unscented. P.S. I'm currently hosting a giveaway for this mascara, so make sure to enter here for a chance to win!
Bliss Makeup Melt
I picked up the Bliss Makeup Melt at Target based on a recommendation from fellow beauty blogger, Teni Panosian. Honestly, after the first week of using it, I disliked it so much that I was in the midst of filming a review about how ineffective of a makeup remover it was until I read the directions and realized I was using it wrong. LOL. Lesson learned: read directions.
The Bliss Makeup Melt doubles as a makeup remover and cleanser depending on how you use it. As a makeup remover, you have to use it with a cotton round on dry skin. That's where I went wrong — I was originally using it with my hands after wetting my face, which is how it's supposed to be used as a cleanser. When used correctly as a makeup remover, it is SO effective and leaves my skin soft.
The formula is free of parabens, phthalates, sulfates, sodium lauryl sulfate (SLS), sodium laureth sulfate (SLES), DMDM hydantoin, urea, petrolatum, mineral oil, DEA/TEA/MEA/ETA, and formaldehyde. In other words, it's sensitive-skin friendly! Plus, the Makeup Melt is vegan and cruelty-free. 10/10 would buy again.
Fenty Beauty Killawatt Freestyle Highlighter Duo in Girl Next Door/Chic Phreak
Pink highlighters are my favorite because they complement my fair skin so well. I rediscovered my love for my Fenty Beauty highlighter in Girl Next Door/Chic Phreak after using it in my Boyfriend Guides Me Through a Makeup Tutorial video. Side note: If you haven't watched it yet, you have to. It's hilarious.
After more than half a year of this highlighter sitting around in my filming room, lost in a sea of other beauty products, I went on a mission to conquer mountains high and low to find Fenty. Ok, I'm being dramatic. It was literally hidden in a makeup bag that was under a pile of papers, but I finally found it and it was magical, ok? Imagine if Disney turned that into a story like Finding Nemo, except Finding Fenty. Haha.. ha.. ha ha I crack myself up ok bye.
Fashion
Aerie Chill High Waisted Legging
In July, I purged my closet and donated a bunch of clothes that I no longer wore or fit me well. One of those items was my see-through and short Forever21 leggings. I decided I want to stop shopping at Forever21 and purchase better quality clothes that fit me well and make me feel good. After reading rave reviews about Aerie's leggings, I bought a pair of their Chill High Waisted Legging in Black and wow. Best. Leggings. Ever.
These leggings are super comfy, the right length, thick enough that they're not see-through, hug my body, don't fall down, and the perfection addition to my newly curated closet. The best part is I got them on sale for less than $10. So worth it. They also have regular rise versions. I'm tempted to go back and buy another pair.
Food
Health-Ade Kombucha Power Greens
Buy it. Try it. Enjoy it. You're welcome. Oh my goodness, I cannot get enough of the Power Greens Health-Ade Kombucha. I tried this brand for the first time when I was in Big Bear that first weekend and it was love at first sip. I'm a huge green drink and kombucha lover, so to have them combined in one drink is heaven.
Made with wheatgrass, spirulina, and camu camu, this kombucha tastes refreshing and is a nice way to get in your probiotics. The best part? No floating chunks at the bottom. Kombucha drinkers, you know what I'm talking about.
What were your favorite products in August? Let me know in the comments!